We are excited to announce that we now have the most affordable rates for beautiful gold chiavari chairs in Maryland and in the Washington DC area! Book now to lock in this introductory rate.


Our chiavari chairs are extremely durable, and made of sturdy aluminum, which means no wobbling and squeaking when your guests sit on them! They all come with durable yet comfortable white cushions as well.
In addition to renting chiavari chairs, you also have the option of allowing us to design the chairs for you! We LOVE the elegant look and feel of chiavari chairs and are careful to select decor that enhances the chairs without covering their natural beauty. For just $3.50 additional per chair, you can add these elegant ivory sashes to your chairs. Each comes with a gold, bling band at the center to tie everything together. The sashes can be alternated on the chairs (photo above), placed on every chair (photo below), or simply added only to your estate or high tables for an elegant, but affordable look. The option is yours! Complete our contact form now and we will send you pricing for different options based on your guest count.

Photo by Daniel Oke Photography
Chiavari chairs are always worth the investment! Chairs are a huge part of decor, since there will be so many of them around the room. Chiavari chairs always create a more sleek, and elegant look in any room. For example, below are photos of the same venue – one decorated with chair covers, and one with elegant gold chiavari chairs. The difference is clear when you take a step back to view the rooms! If you are looking for a modern but elegant look, chiavari chairs are the best way to go.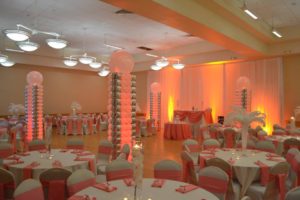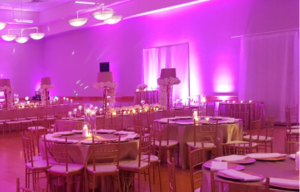 Our chiavari chairs in Maryland are available for rent today! To request a quote or more information, complete our contact form now.