There's no doubt that decor at times can be expensive. Many brides of today spend up to $10,000 on decor alone, so it's no surprise that many of today's brides are looking into DIY options, or asking if decor really matters in the grand scheme of things. In this blog post, we'll explore the reasons that your decor matters!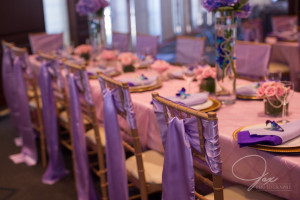 1. Your unique personality, vision and style takes center stage instead of your venue: One common mistake that I see many couples make, is spending the majority of their budget on a catering hall, leaving little to no money for other important aspects of the wedding such as photography, music and decor. The question that you have to ask yourself, is do you want people to leave your wedding impressed with the venue, or with your unique vision? This is also especially important if you have visions of your wedding featured on popular blogs or social media pages. Its important to have a unique look and feel to your wedding to make it yours!
2. It controls the mood at your wedding: The setting of your wedding really sets the tone of your wedding. Think back to a wedding or event that you attended and were excited to take photos of and share. Chances are, the decor played a lot into that experience, and made you feel that you were at a luxury affair. Also, if you create an elegant, upscale setting, this helps to remind guests to ensure that their behavior complies with the setting. No one wants to be remembered as the out of place, unruly person at an upscale event!
3. It ensures that your photo and video memories stand out forever: The decor will be in the background of all of your photos and videos. From your entrance, to the first dance, to photos of guests seated at the event, and any photographer will tell you that composition matters! Elegant lighting, luxury florals, and shimmering details in your photos and videos do a lot to help you remember your wedding as a luxurious and romantic affair for years and years to come.
All of that said, you definitely don't have to spend $10,000 to create a standout effect. At Statuesque Events, we work hard to produce luxury on almost any budget, but it should be budgeted for reasonably to create the vision that you always dreamed of!
Are you planning a wedding or event and considering hiring a designer? Contact us via the form below, and we can send a custom proposal to fit your vision and budget. It's risk free!