It's 9pm on the night before this weekend's 2-day wedding. What did I spend the last 3 hours doing? Pruning our floral order for the two days. (yes, the order was that tall) Kudos to my partner in crime below. Fiskars really knows what they're doing!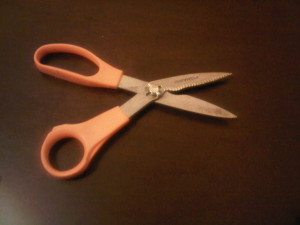 By now, I've learned to dodge the thorns on the hundreds of roses which are part of the order, and I'm so happy to say that once again, I'm bandage-free! A little nailpolish chippage going on, but I can deal with that 😉
There's still lots more to do, between finalizing the seating arrangements for Saturday, some finishing touches for tomorrow's decor and the like, but I'm feeling good about the weekend! Definitely stay tuned especially over instagram and Facebook for the inside scoop on how the weekend is turning out! I just was randomly inspired to start a mini-diary series on this blog to document some behind the scenes actions and thoughts as I go along this event planner's journey, starting with this post.
Enjoy, and stay tuned!