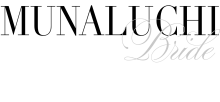 As you may already know, we are proud members of Munaluchi Bridal Magazine's Coterie of Top Wedding Professionals! Last week, they decided to put the spotlight on us with a great feature covering both our business and fun facts about our founder, Feyisola.
Click Here to read up on it!
We want to help make your wedding or next event sparkle! Contact us via the below form to find out more on how we can do that.
[contact_form]