Are you considering a 3 month wedding planning timeline? Yes! This is doable, and lots of people do this for many reasons. Below are a few tips to help you determine if a 3 month timeline is right for you, and to ensure that you make the most of it without driving yourself nuts in the process!
Why A 3-5 Month Timeline? As a Washington DC wedding planner, I have experience working on a few weddings with shorter timelines, and they take place for many reasons. They tend to be a good fit when either the bride or groom is
in school and graduating soon
a teacher (who would like to take advantage of summer off)
a military service man or woman (we love you by the way!)
or if you simply have always dreamed of a wedding in the Spring or Summer and don't want to wait!
Are There Any Benefits of a 3-5 Month Timeline? Actually, yes there are!
Deals and Specials: All wedding venues and vendors sell dates! So, when you approach a venue or vendor just a couple of months in advance, they are willing to sell whatever dates they have left at a discount, because in most cases it is either you, or nothing. The caveat of course is that you will work based on what is still available, but a good planner can always help you find great options!
Crunch & Done! You get to focus all the work into a short period of time, then run off into marital bliss sooner!
Keeps the Excitement Alive: With really long engagements, there are peaks and valleys. It's exciting at the beginning, and in the middle it stops getting exciting when you see how much time is left ahead, and, if you aren't a very decisive couple, how many more decisions are still ahead. With a short timeline, the wedding is always around the corner and that always gives you a reason to be excited
Are There Any Concerns That I Should Have?
Are You Flexible Enough? If you've already mapped out what venue you want, what photographer and every other vendor that you want to work on your wedding, then a short timeline is not the best option for you, because one or more of them will likely be booked. Pulling this off requires being flexible and open to options. And again, with a planner that understands your vision, this is doable with a few different vendor combinations
Out of town guests: If you have lots of guests coming in from out of town, you'll need to let them know about the wedding asap! If they are coming from outside of the country and have visa requirements, you will need to understand the process and how long it takes before determining if planning a wedding in 3 months is right for you.
Savings: A shorter wedding timeline means a shorter period over which to pay. You will find lots of deals, but everything will still need to be paid before the wedding. Do you have savings set aside?
Tips for Successfully Planning in 3-5 Months:
Be flexible, but be decisive! Be open to different options from different vendors, but once you receive options, review and compare quickly and make a decision.
Shop sample sales: Traditional wedding dresses can take 3-8 months to be made and shipped in, + 2-4 weeks in alterations. Instead of shopping at regular salons, look for sample sales. There you can shop for dresses off the rack, and then have them altered to fit you. There are also online options such as Borrowing Magnolia and Rent the Runway that make it easy to find and rent dresses in your size quickly.
Hire a planner: There are many decisions to be made in a short period of time. The best use of your time is to hire a wedding planner, explain your vision to the planner, then let them bring you options that will help bring your vision to life, so you can focus on saying yes, no, or asking for the changes that you want to see. Contact us today to learn more about our available short term dates and discounts for weddings within 3-5 months. We'd love to bring your day to life!
Don't DIY: I always recommend spacing DIY projects across 2 or more months. Trust me, there will be a lot of starting and stopping. Adding this to a short wedding timeline can be really stressful, unless you have an army of friends to help you through it all over a couple of days. But don't attempt to DIY favors, stationary or any other projects alone on a short timeline!
Go Digital!

Consider electronic invitations. This will save you hours of collecting addresses, sticking on mailing labels, and tracking RSVPs when they come in. Consider an online service like Greenvelope to send and track RSVPs easily and save you hours of precious time.
Keep all of your wedding data online! Sifting through papers, multiple notebooks and occasionally illegible handwriting will make this process unnecessarily challenging for you. We provide a cloud based wedding tracker that manages literally everything from ideas, decisions, guest lists, and tasks lists to allow our brides and grooms to collaborate with each other and us from anywhere (work, home or cell phone). It's included in our full and partial planning packages. Contact us to request a demo along with your consultation today!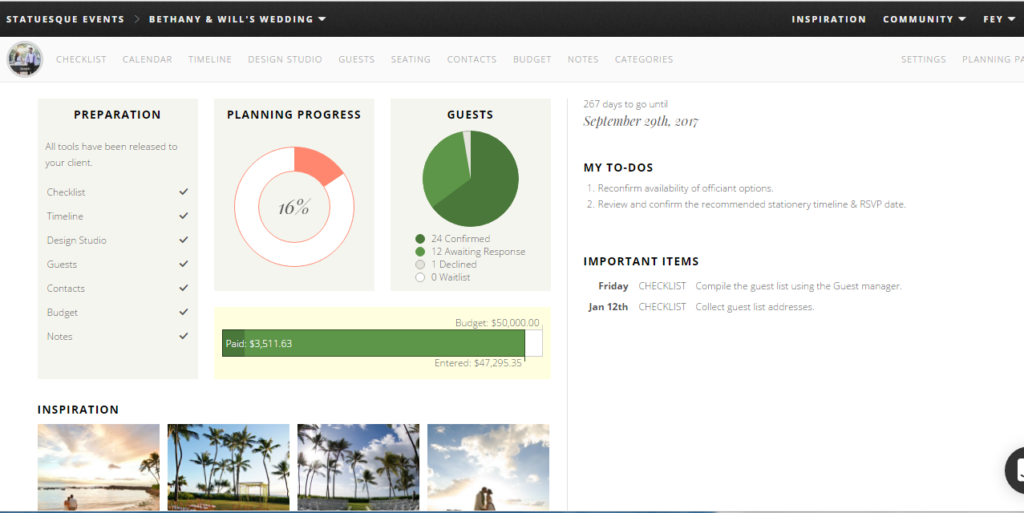 I hope that this blog post has been helpful, particularly for those of you who got engaged over the holidays or Valentine's Day and just don't want to have a long engagement! By the way, we would LOVE to be your wedding planners, whether you are planning a 3 month, 9 month or 18 month engagement. Contact us today to receive more info about packages and specials!